Free Range Duck Eggs


At this time, all eggs have been sold out. Thank you..
For arts, crafts and decorative purposes.
Duck eggs are sold by the dozen.
Eggs are blown (emptied) with a single hole in the large end.
Eggs range in color from off white to pink to tan to blue/green.
These eggs have a thick almost see through shell and are great for many craft and artistic applications including carving, painting, Pysanka, Ukrainian Easter eggs, wax art, Faberge style, decoupage, dioramas, jewelry boxes, jewelry, beading, ribbon art, etched, sculpted, decoration, etc.
Eggs are cleaned inside with a bleach and water solution and outside with an antibacterial soap solution.
Duck Egg Prices
Prices do not include shipping.
Shipping is $6 for 1 dozen and $8 for 3 dozen.
Shipping is higher outside the USA.
1 Dozen (12) Jumbo Duck Eggs

$15.00

1 Dozen (12) Large Duck Eggs
$14.00
1 Dozen (12) Small/Medium Duck Eggs
$12.00
3 Dozen (36) Large or Jumbo Eggs
$36.00
Quantities are very limited - e-mail for availability.
Please write "duck eggs" in the subject line.
Click here to e-mail for information.
Egg Sizes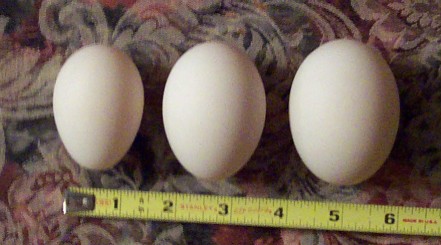 Sizes are approximate as eggs vary slightly.
Jumbo eggs measure approx. 2 3/4" to 3" x 2".
Large eggs measure approx. 2 1/2" x 1 3/4".
Small/Medium eggs measure approx. 2 1/4" x 1 1/2".
Click here to e-mail for information.