The Moon is the only natural satellite of the Earth. It is visible to us because of reflected sunlight. The Moon's diameter is approximately 2159.8 miles. The distance from the Earth to the Moon is approximately 238,855 miles. The Moon orbits the Earth every 27.322 days in a synchronous rotation. This means that the same side of the Moon is always facing the Earth.
The Moon's very thin atmosphere is made up of helium, neon, argon and radon. The lunar temperature fluctuates from -292 degrees F to 230 degrees F.
Ever wonder what the Moon phases are called?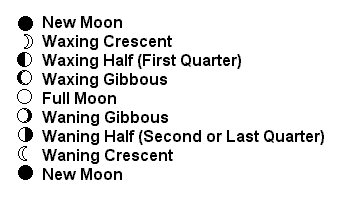 If you say the Moon is 5 days old, that means it's 5 days after the new Moon.
If there are 2 full Moons in the same month, it's called a Blue Moon.
Apollo Lunar Landings
| | | |
| --- | --- | --- |
| Apollo | Landing Site | Date |
| 11 | Mare Tranquilitatus | July 20, 1969 |
| 12 | Oceanus Procellarum | Nov. 19, 1969 |
| 14 | Fra Mauro | Jan. 31, 1971 |
| 15 | Hadley Apennines | July 30, 1971 |
| 16 | Descartes | April 21, 1972 |
| 17 | Taurus Littrow | Dec. 11, 1972 |